As we came to the top of a ridge in the bald hills near British Columbia's northern Purcell Mountains, our guide, Beth Purser, who was leading a yoga retreat at Purcell Mountain Lodge, asked us all to take part in a meditative yoga exercise. She just asked us to pay attention to every detail of the stunning landscape around us. As a writer, I'm used to paying attention to details, but when I actually focused my efforts on the sounds, sights and smells around me, I was surprised by how much I had been missing. I noticed all the different shades of green, the glistening dew on pine needles and the high-pitched squeak of a nearby ground squirrel. And when I stopped to notice those things, I felt more peaceful. This beautiful spot in the heart of the Purcell Mountains is one of the prettiest spots on the planet and in that moment as I gazed around me to really appreciate what I was seeing – it was paradise.
There are affiliate links in this post. If you make a qualifying purchase through one of these links, Wander Woman Travel Magazine may receive a small commission at no extra cost to you.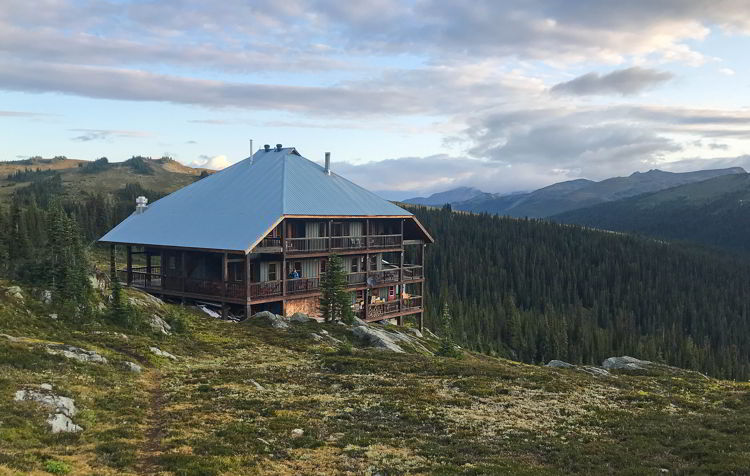 Getting to Purcell Mountain Lodge
There are two main ways to get deep into the backcountry of the Purcell Mountains – you can hike there with a backpack, tent and dehydrated food or you can fly in by helicopter and stay at the Purcell Mountain Lodge and sleep in a soft bed, take part in guided experiences and enjoy gourmet meals. My husband and I went with the second option and we have no regrets. We've hiked into the backcountry of the Canadian Rockies before and no matter how you get there, where you sleep and what you eat – it's worth it. That said, it's really nice to enjoy the backcountry experience with a little luxury.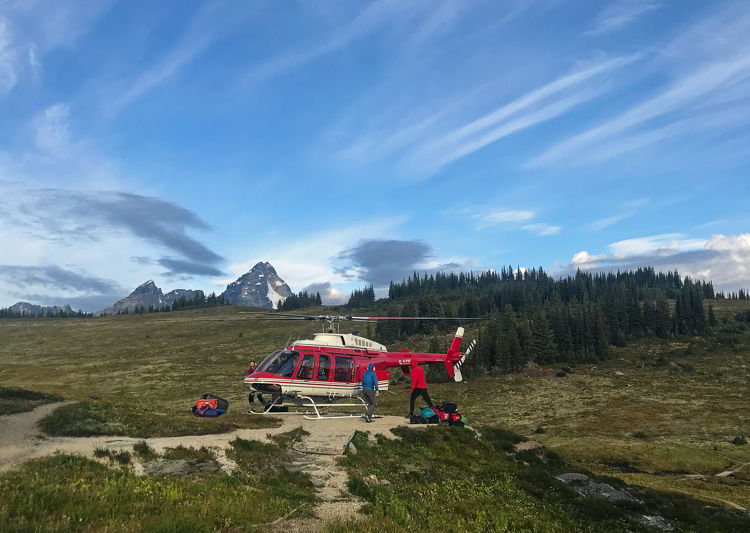 The Helicopter Ride
Our first day began with an early morning helicopter ride from the airport in Golden to Purcell Mountain Lodge. The views from the helicopter were great. A small contingent of lodge staff was standing outside the lodge to greet us as the helicopter landed. Breakfast was waiting inside.
Related: If you love hiking as much as we do, check out our post about the 10 Best Easy Hikes in Kananaskis.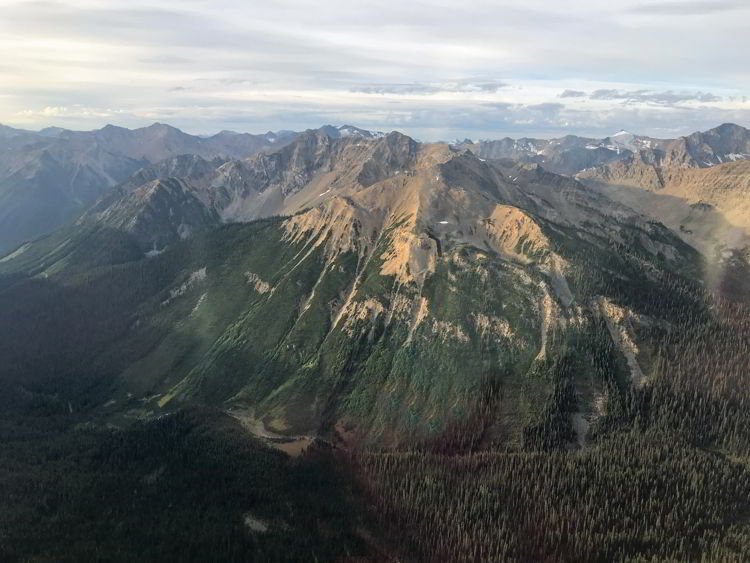 Are the Purcell Mountains in the Canadian Rockies?
Located in southeastern British Columbia, the Purcell Mountains are magnificent, but they are not technically considered to be part of the Rocky Mountains. They are a subrange of the Columbia Mountains, on the west side of the Rocky Mountain Trench. In Canada, mountains on the east side of the Rocky Mountain Trench are considered part of the Rockies and those on the west side are not. Most of the peaks in the Purcells are at or near 10,000 feet in elevation and they are part of a stunningly beautiful landscape.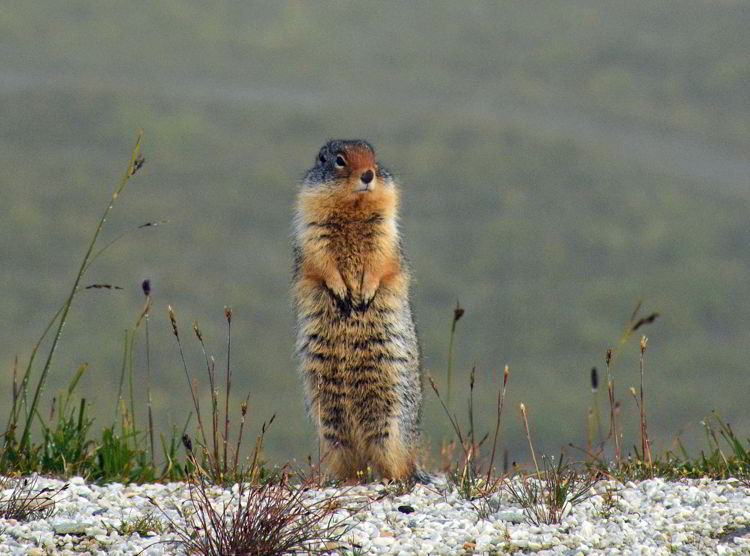 Staying Overnight at the main lodge at Purcell Mountain Lodge
There is a main lodge and a self catering private chalet at Purcell Mountain Lodge. Both have running water and flush toilets. They sit high in the mountains at about 2200 m (7218 ft) elevation. There are 10 rooms inside the main lodge. Food and guided expeditions are typically included with your stay in the main lodge. The dining area is on the main floor. There is a wood burning fireplace and a living area for relaxation on the main floor as well as a veranda that stretches around the building with comfortable seating for those who want to relax outside. The upper floors has 10 guest rooms that come in three configurations. There are private rooms with Queen size beds that can accommodate two guests, rooms with a Queen bed and a twin bed that can accommodate three guests, and shared rooms with a queen bed and three twin beds that can accommodate up to five people. Each room type has a private furnished balcony and there is a library on the upper floor. The rooms do not have private toilets, but they do have a vanity and sink. There are four washrooms and three showers in the main lodge.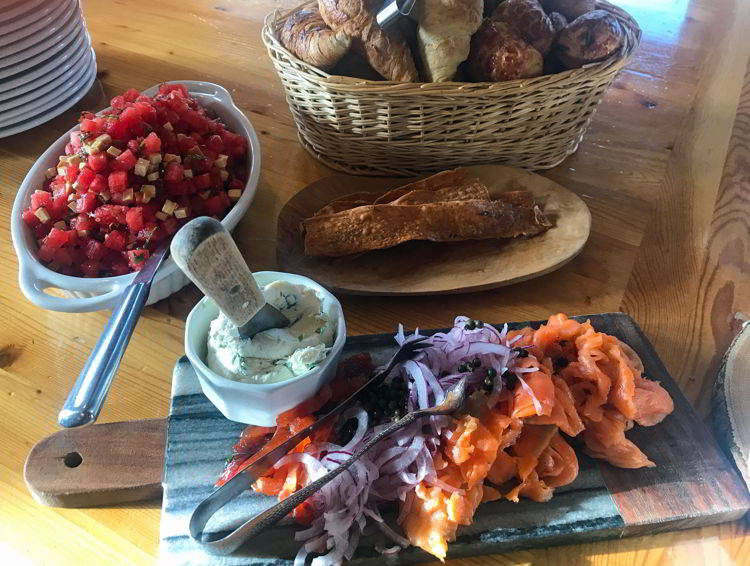 Staying Overnight at the Self Catering Chalet
As the name implies, the self catering lodge is meant to be self catering, meaning you cook your own meals. The kitchen is fully equipped with everything you need to prepare meals and there is a refrigerator to stock food and perishables. Helicopter space is also provided to carry in provisions. The self catering lodge is steps away from the main lodge. It can accommodate 4-8 guests and can be self guided or guided. There is a specious dining room, a private deck and comfortable furnishings. Those who don't want to cook for themselves can opt to have meals delivered from the chef at the main lodge. The chalet has two bedrooms and one bathroom with a vanity and shower. There is a private deck outside the chalet.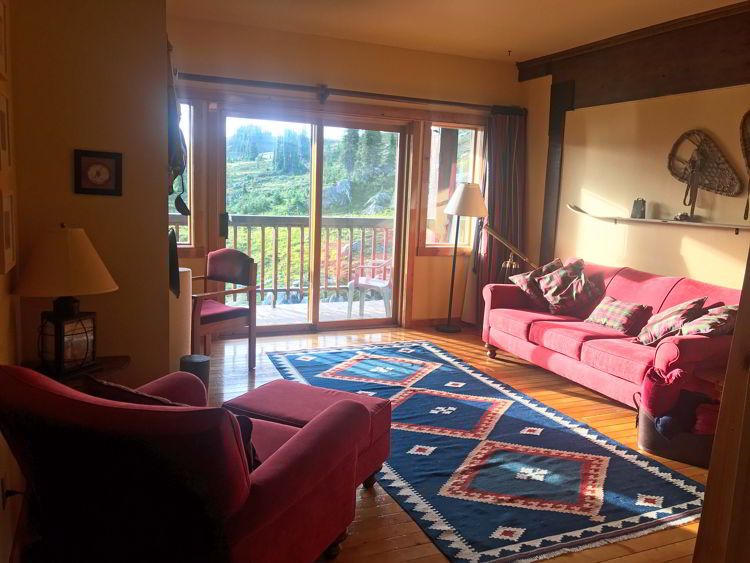 Does Purcell Mountain Lodge Have Wi-fi or Cell Service?
Purcell Mountain Lodge does not have Wi-Fi or cellular coverage, which makes it a welcome break from technology.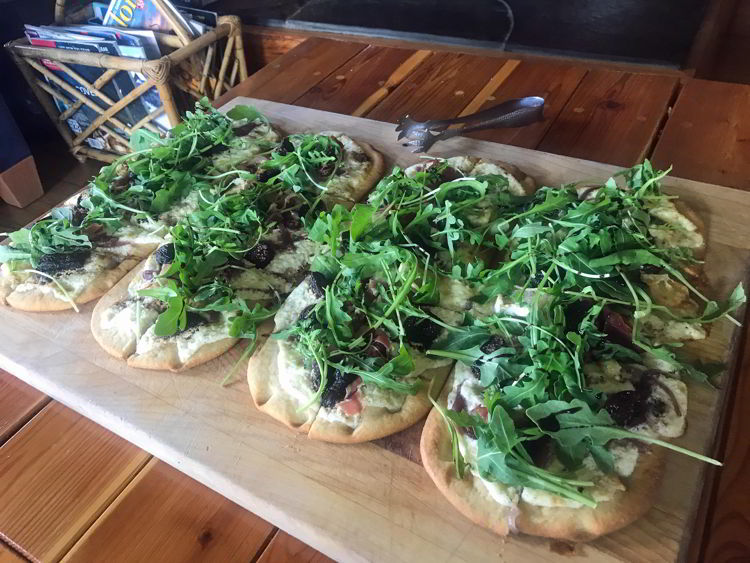 Dining at the Lodge
Meals were wonderful during our stay at the lodge. We had a hot breakfast each day and a bagged lunch made to order that we took on our daily hiking excursions. There were wonderful late afternoon or early evening hot and cold hors d'oeuvres served with tea, coffee or hot chocolate. Dinner is a three course plated meal that included entrees like lamb chops, beef tenderloin, or Arctic char. Special dietary restrictions can be accommodated, but notice must be provided well in advance. Alcoholic beverages were available at an extra charge. They had a nice selection of wine, craft beer, hard liquor and cocktails.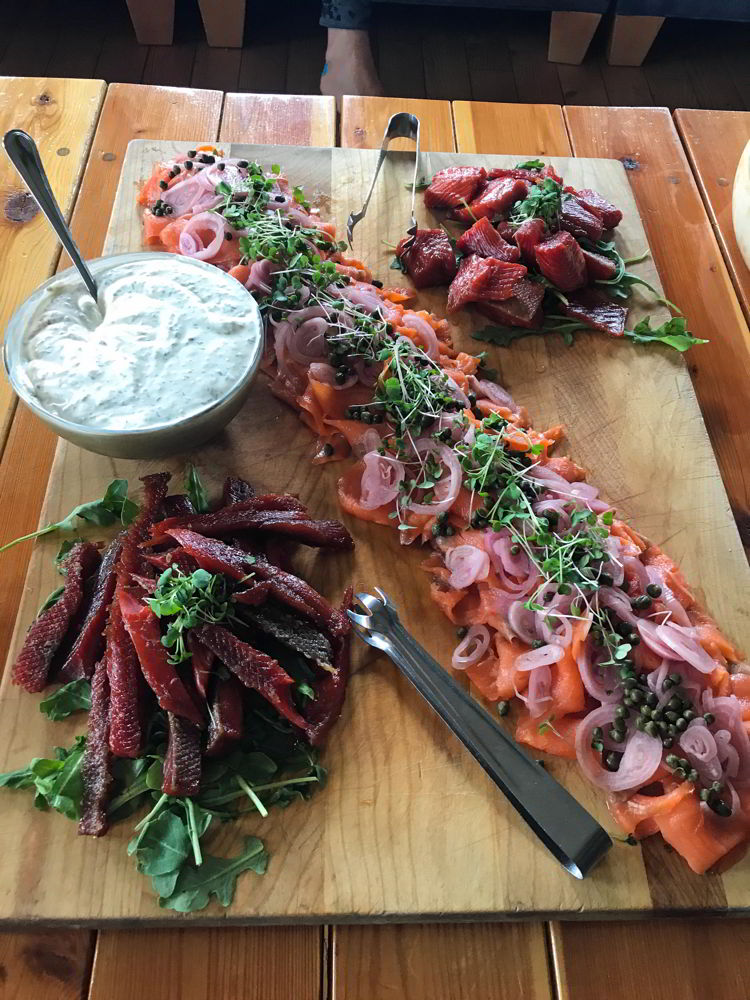 Getting Pampered at the Lodge
There's a wood-fired sauna at the Purcell Mountain Lodge and we used it on two evenings during our stay. It was rustic, but very relaxing. Firing up the sauna was fairly easy and the staff will set it up for you if you ask them to. We also enjoyed a bonfire outside one evening. There's a nice firepit area outside the lodge.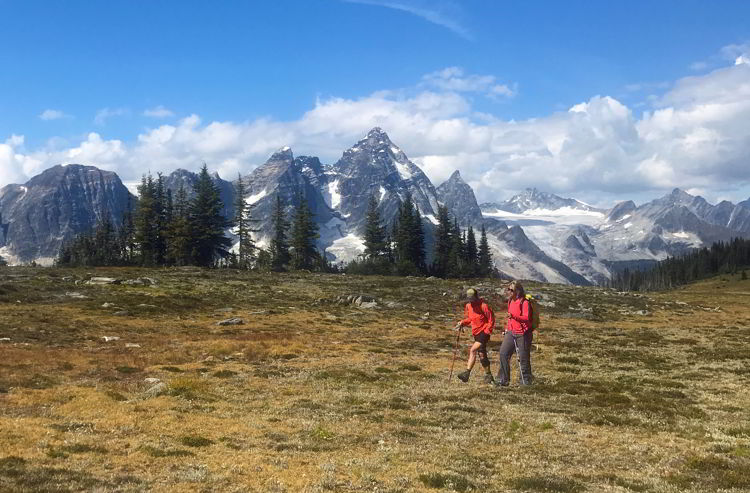 Hiking in the Purcell Mountains
We began hiking on our first day at Purcell Mountain Lodge. After a short break to enjoy breakfast and settle in, our group of 16 met for our first guided hiking excursion. The lodge chef had prepared bagged lunches for us, so we just filled our water bottles, grabbed the lunches and headed out.
Purcell Mountain Lodge sits in the bald hills at the eastern boundary of British Columbia's Glacier National Park. Several hiking trails wind through rolling hills, subalpine meadows and forests and the mountain views are spectacular. It's a true wilderness that is difficult to access and we didn't see any other hikers in three days of hiking through this area — though we did see one grizzly.
Most days, our group would split into two with those who wanted to hike faster and longer going with one guide and those who wanted a more leisurely pace going in the second group. The weather was gorgeous on our first day, so my husband and I decided to do the longer hike. By the time we got back to the lodge, afternoon tea and snacks were almost ready.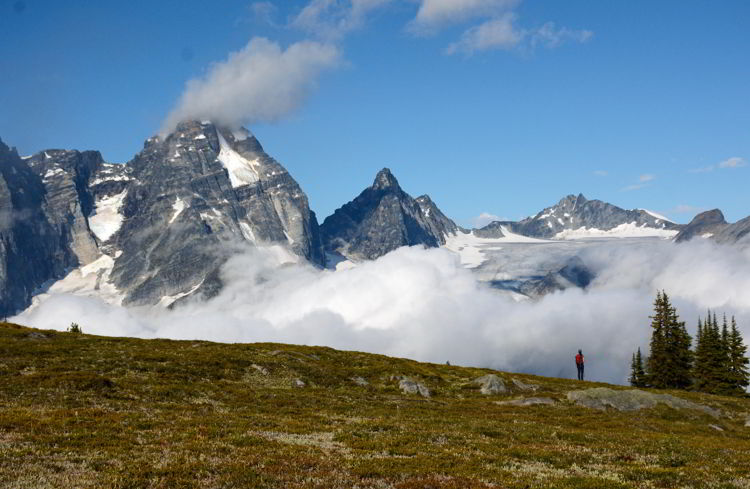 Winter at Purcell Mountain Lodge
My husband and I visited Purcell Mountain Lodge in the summer, but it is even more famous as a winter backcountry ski lodge. The ski guides can accommodate skiers at various ability levels. Families with children and those who have never skied powder can enjoy the mountains and alpine meadows near the lodge. There are plenty of gentle slopes to enjoy on skis or snowshoes. Ski guides can take adventurous skiers on numerous ascents and descents than can include 2600 m summits and 700 m runs. Advanced skiers can go deep and steep when the snow stability allows for it. There are literally limitless possibilities and new runs are still being discovered. This region of Canada gets tons of dry airy powder and consistently great skiing conditions. Each trip is unique and customized, but it always includes fresh tracks in powder and trees.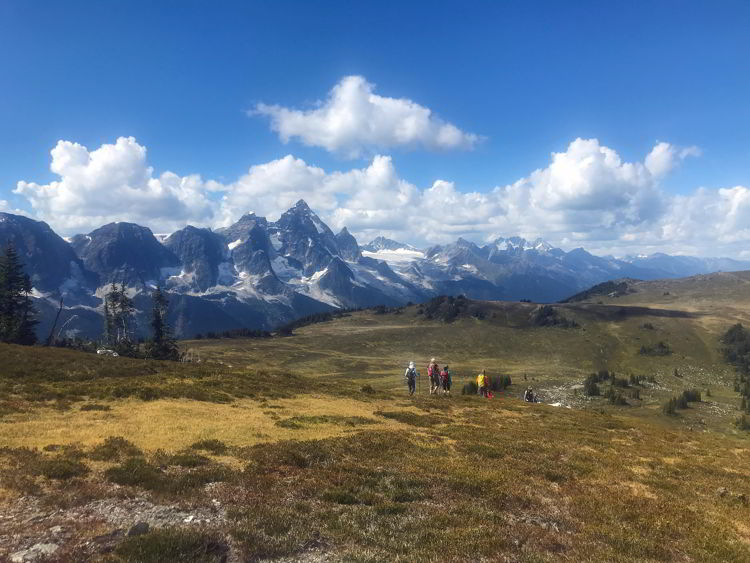 Private Lodge or Chalet Rentals
The entire lodge can be reserved by a private group. Guests fly in on Mondays or Fridays, staying 3 or four nights. The entire main lodge can be rented for $8988 plus tax from November to December and for $11,888 plus tax from December to May. Helicopter transfers are $500 plus tax per person from Golden. This rate includes access to the commercial kitchen and space to fly in food. A minimum of 8 guests and a maximum of 16 guests can be accommodated. The chalet is designed to accommodate a smaller group of four to eight guests and starts at $4300 plus tax.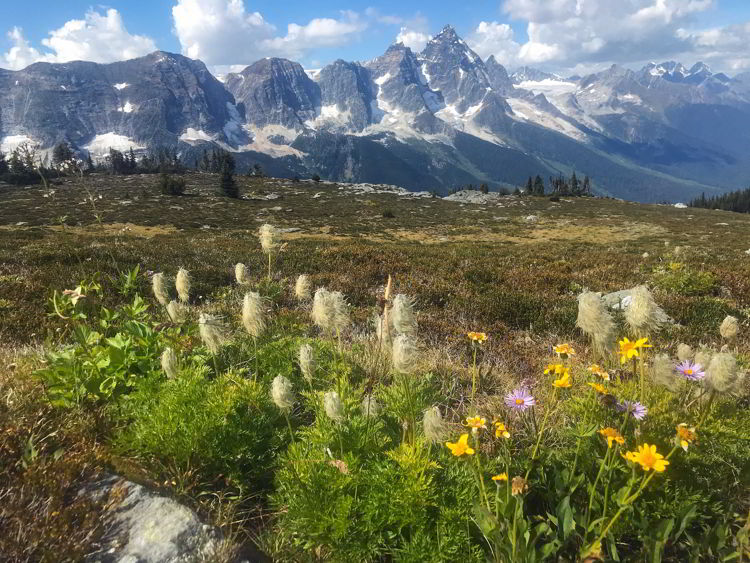 Specialty Programming
A stay at Purcell Mountain Lodge includes guided excursions with professional guides. There are guided hikes in summer and guided ski tours in winter. My husband and I visited Purcell Mountain Lodge on a yoga retreat with a company called Revelstoke Retreats. This company rented the entire lodge and organized a weekend yoga and hiking retreat that was amazing. Similar programs might be offered through other organizations who rent the entire lodge. At first glance, hiking and yoga seem to be two very diverse and unrelated activities, but in reality they go together like peanut butter and jelly. The meditative part of yoga fits perfectly with the kind of meditation that happens when you get out into nature. And yoga exercises are a great way to stretch and loosen muscles before and after hiking.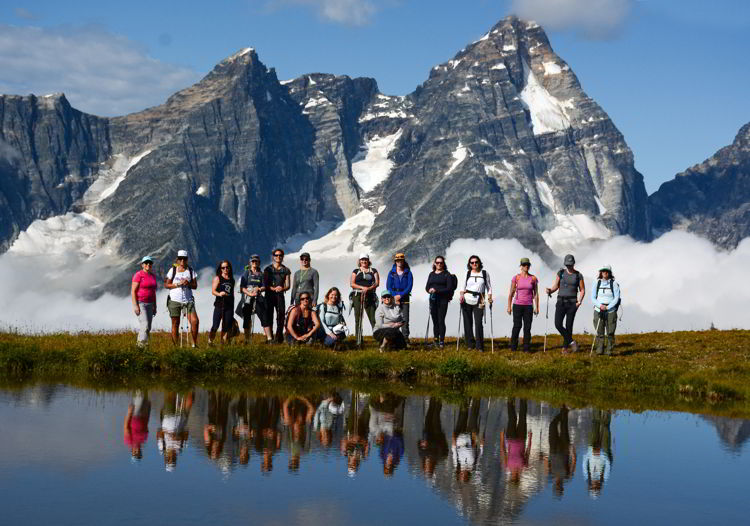 What You Should Bring to Purcell Mountain Lodge in Summer
If you're traveling to the lodge in summer, you should bring sturdy waterproof hiking boots, a water bottle, hiking poles, layered clothing suitable for all weather conditions, sunglasses, sunscreen, and insect repellent. Slippers, pajamas, toiletries, and comfortable clothing for wearing during the evening are also an asset. The hiking guides always carry bear spray, but I recommend bringing your own. We saw a grizzly walking through the meadow near the lodge when we stayed there.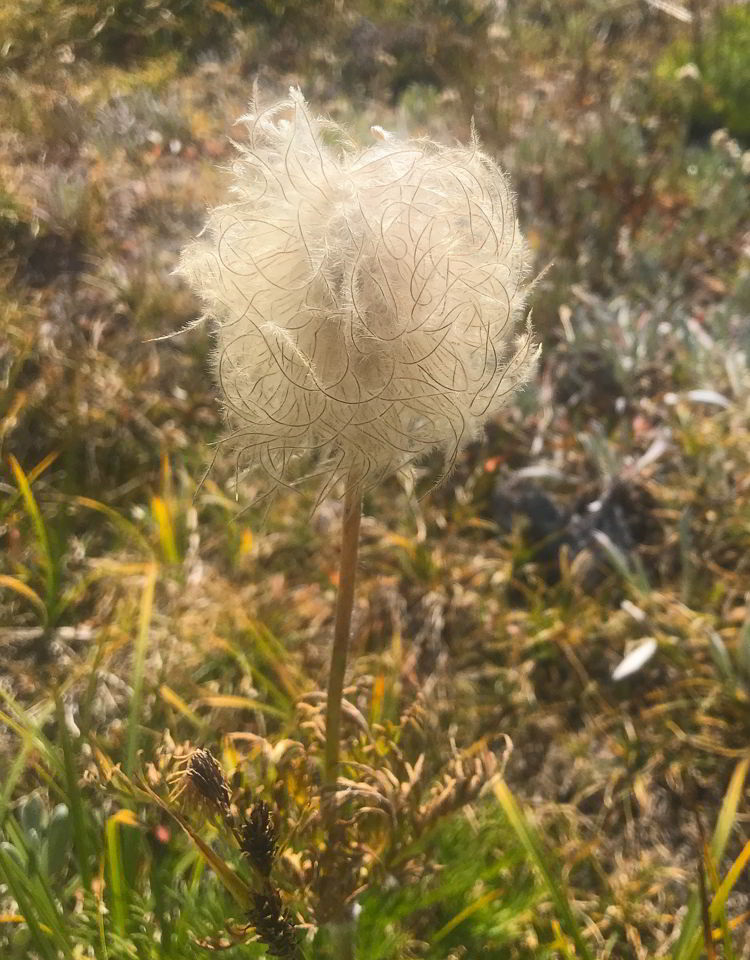 What You Should Bring to Purcell Mountain Lodge in Winter
In addition to weather appropriate clothing, winter guests need to bring skis, splitboards or snowshoes and ski poles. You also need climbing skins, and avalanche gear. Avalanche gear can be rented from Purcell Mountain Lodge if you don't have it. There are places near Golden where you can rent the other equipment you need as well. All skiers planning to venture beyond the meadows must wear a current avalanche beacon. Guests must also participate in an avalanche safety orientation before heading out on the first tour.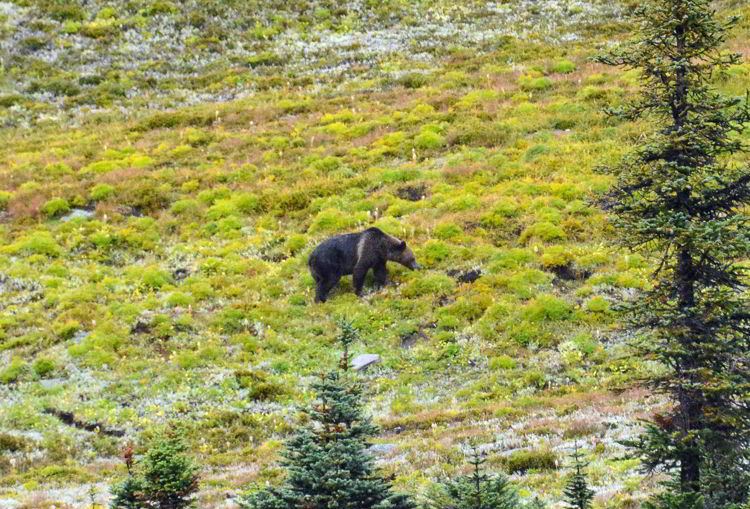 What You Shouldn't Bring to the Lodge
No outside alcohol is allowed at Purcell Mountain Lodge. Also, the lodge is a nut free environment, so they ask that guests not bring any nuts into the lodge. You also need to avoid overpacking. There are weight restrictions for the luggage you are allowed to bring on a helicopter.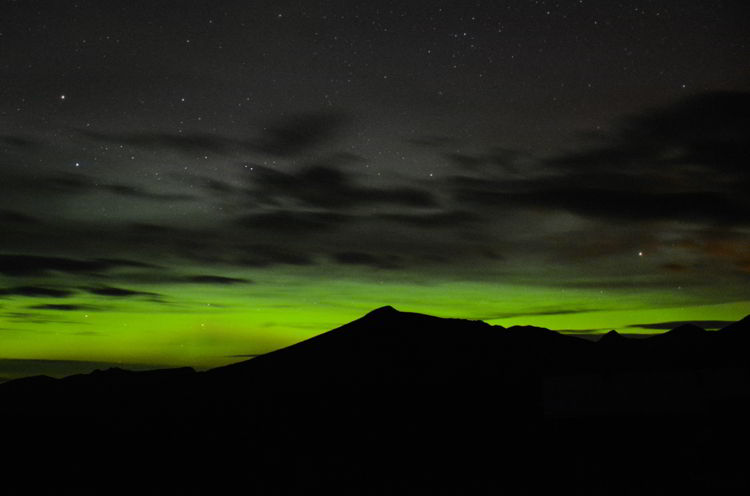 Related: If you love exploring mountains, check out this new guidebook authored by two wander women – Debbie Olsen and Kelsey Olsen as well as two other amazing writers.
What Does it Cost to Stay at Purcell Mountain Lodge?
A typical stay at Purcell Mountain Lodge includes meals and snacks, overnight accommodation, helicopter transportation from Golden, and guided skiing or hiking excursions. You fly in by helicopter on Monday or Friday. If you fly in on a Monday, you stay four nights. If you fly in on a Friday, you stay three nights. Rates in summer start at about $2808 per person. Rates during peak winter season start at $2990 per person. There are group share rooms that accommodate single travelers or you can book rooms that accommodate couples.
Where to Stay in Golden, BC
The helicopter leaves early on Mondays and Fridays, so you'll probably want to stay overnight in Golden the night before your departure. We liked the Best Western Mountainview Inn. It's very clean, reasonably priced, has a pool, free Wi-Fi and a free breakfast.
Related: If you're interested in backcountry lodges, read our post Shadow Lake Lodge – Backcountry Bliss.