Wolfdogs are fascinating creatures and the Yamnuska Wolfdog Sanctuary near Calgary is a nonprofit haven for them. It's a place to see wolfdogs up close, to learn about wolfdogs and to learn about wolf behavior. This sanctuary was created to educate the public about responsible wolfdog ownership and to raise awareness about the large numbers of these animals that end up in shelters. Yamnuska Wolfdog Sanctuary is less than an hour's drive northwest of Calgary near the town of Cochrane, Alberta. Several different experiences are offered, but the most exciting part of a visit is getting to see wolfdogs up close and maybe even interact with them. You can also learn about wolves and how to contribute to the conservation of wolves.
There are affiliate links in this post. If you make a qualifying purchase through one of these links, Wander Woman Travel Magazine may receive a small commission at no extra cost to you. Thanks for your support!
What Exactly Are Wolfdogs?
Wolfdog is a term used to describe an animal that is part domestic dog and part wolf. Although domestic dogs evolved from wolves, there is a big difference between these animals. Wolves possess a great deal of traits and instincts that can be carried over into the wolfdog pup. Oftentimes this can provide difficulties for the owner if they are uneducated on the traits of wolves and the needs of wolfdogs. Wolfdog puppies are adorable, but they are not dogs and they are not wolves. They may exhibit traits of both species and as they mature, they can be challenging to keep as pets.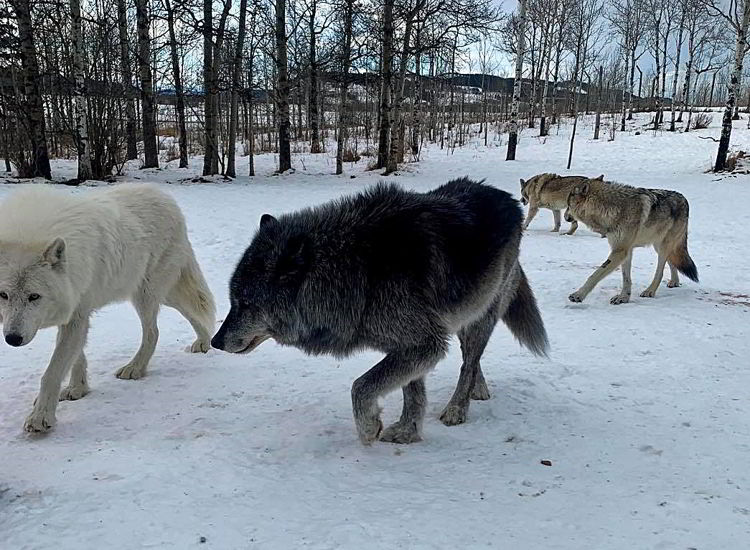 Where do People Buy Wolfdogs?
As the name implies, wolfdogs are the result of breeding domestic dogs with wolves. They are typically bred by backyard breeders as exotic pets. People who buy wolfdog puppies can usually manage them at first but may have difficulty as they grow older and become more aggressive. Wolfdog traits can vary depending on the breed of domestic dog, the amount of wolf content in the animal and the treatment the animal receives. Sadly, many pet wolfdogs end up euthanized or in shelters. That is why so many of them end up in animal shelters or are euthanized. Yamnuska Wolfdog Sanctuary is dedicated to changing that.
A Tour at Yamnuska Wolfdog Sanctuary
There are currently three tours at the Yamnuska Wolfdog Sanctuary. There is a Sanctuary Walk, an Introductory Tour, and an Interactive Tour. We were able to do the Interactive Tour, which was a great experience and super informative. The Interactive Tour is not recommended for younger children. The minimum age requirement is 15 years. On the interactive tour, guests go inside the enclosures and get an up-close experience with the wolfdogs. If you're lucky, you might even get a wolfdog to take a treat out of your hand! Because wolfdogs have wolf-like traits, a small child might be instinctively perceived as prey and that is part of the reason there is an age limit on the tour. It's also because younger children may not understand how to behave around a wolfdog. The Introductory Tour is a guided tour that provides you with information about the wolfdogs and tips on conservation methods for these beautiful animals. The Minimum age is 10 years old for this tour. Lastly, the sanctuary walk is a self-guided walk through the refuge. The minimum age is 6 years old and there are 11 sanctuaries to explore.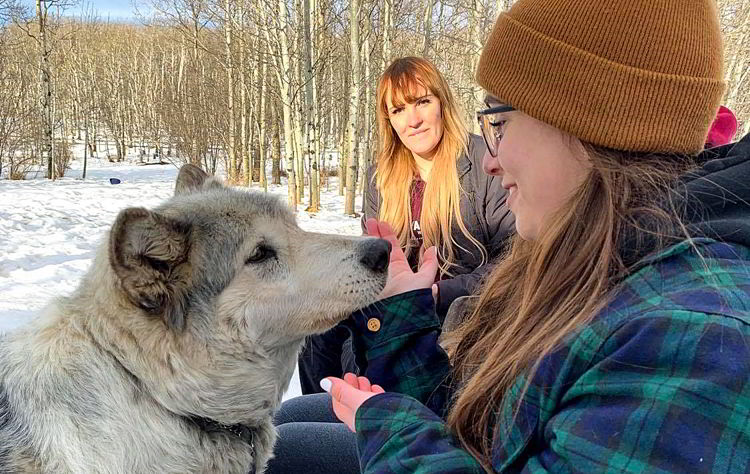 Rules for Visiting Yamnuska Wolfdog Sanctuary
Like other animals that end up in shelters, some of the wolfdogs at the sanctuary have had negative experiences with humans and have been mistreated. Because of this, there are some rules that the sanctuary asks guests to follow in order to keep everyone safe and the animals comfortable. Wolfdogs are powerful creatures and could inflict serious injuries on a visitor. Proper behavior ensures the safety of all.
There is a strict no dog rule when visiting. In fact dogs are even prohibited to be in your car in the parking lot. This is due to the sensitivity of the wolfdogs to other dogs.
The sanctuary is a smoke-free area as smoking can cause a fire risk as well as irritate the wolfdogs olfactory senses.
In order to ensure that the sanctuary is a stress-free environment for the wolfdogs, loud or unruly behaviour is prohibited.
Lastly, for the intro and interactive tours, a dress code is required. The sanctuary asks that you have no pom-poms or dangling accessories. Clothing with fur and fake fur is also not recommended and footwear must be close toed with the laces tucked in.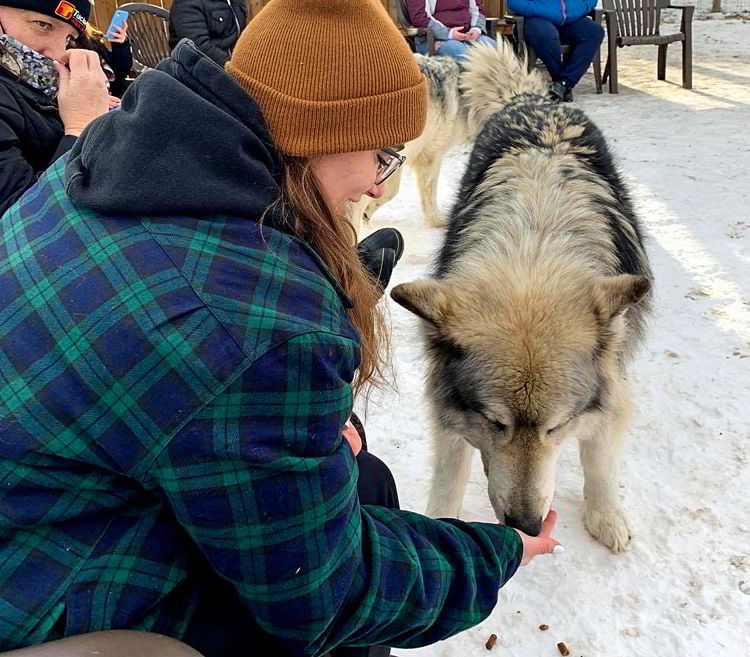 The Wolfdog Sanctuary Gave an up-close View of These Majestic Animals. I will Definitely go Back!
Yamnuska Wolfdog Sanctuary is a fascinating place to visit if you are an animal lover. Wolfdogs are beautiful animals that are challenging to raise and need to be better understood. Learning about wolfdogs and about wolves was interesting and there is a tremendous need for education and awareness about responsible wolfdog ownership so that fewer wolfdogs end up in sanctuaries. Such education could also be helpful for dog owners as well. Seeing these animals up-close is an experience of a lifetime and the funds raised from tours help to support the shelter and the important work that is done there. There was a peacefulness and calmness about the sanctuary as every guest was careful to respect these animals. It was an experience I will never forget and one that I hope to repeat.
Related: If you're looking for more great adventures near Calgary and Canmore, check out our post about winter hikes and snowshoe trails near Canmore.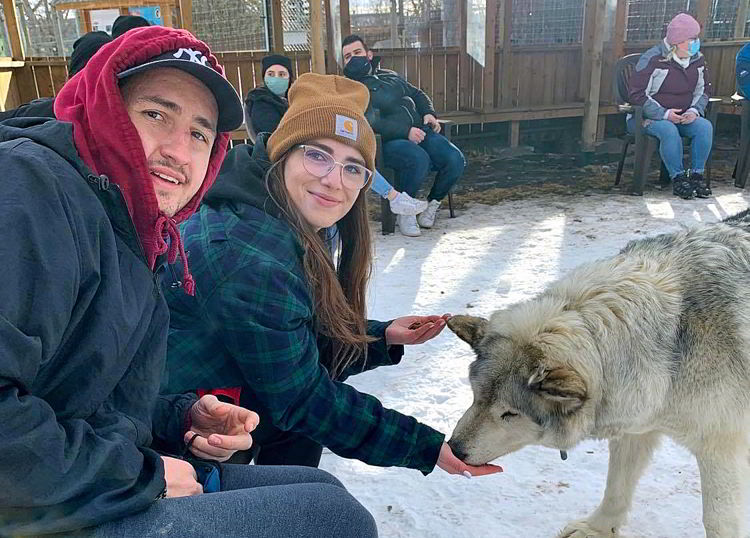 Where to Stay When You Visit Yamnuska Wolfdog Sanctuary
Yamnuska Wolfdog Sanctuary is located 14 kilometres northwest of Cochrane and 50 kilometres northwest of Calgary on 65 hectares of land. It's also 64 kilometres northeast of Canmore. Each of those communities has excellent hotels and restaurants.