Taco lovers unite! Taco Bell announced in May that they are opening a new pop-up Taco Bell Hotel and Resort at the V Palm Springs. Reservations for The Bell hotel go live on June 27. If you want to go to sleep in a room decorated in Taco Bell art, wake up to a Taco Bell breakfast and float in the pool on a giant Taco Bell sauce packet, this place is for you!
There are affiliate links in this post. If you make a qualifying purchase through one of these links, Wander Woman Travel Magazine may receive a small commission at no extra cost to you.
Related: Check out our post Visiting Death Valley in a Day. Death Valley is another amazing California destination.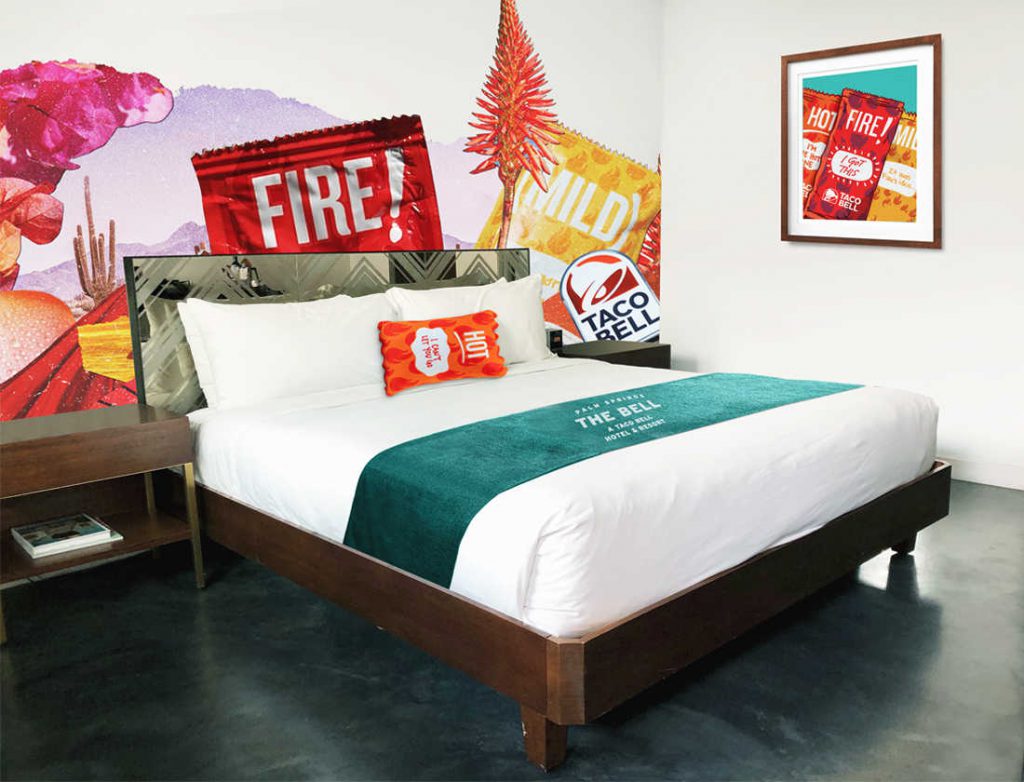 Taco Bell Hotel – The Rooms
The Bell hotel and resort is geared for adults. There are four different room types – King standard, 2 Queens standard, King pool view and 2 Queens pool view. Rooms start at $169 USD per night and Taco Bell is predicting the hotel will sell out fast. If you want to stay there, you'd better set your alarm on June 27. All room categories have a complimentary stocked mini fridge and snack bar and complimentary valet parking is included.
Taco Bell Hotel – Amenities
The Bell hotel has a pool with a live DJ and a bar that will serve Taco Bell favorites and exclusive drinks. There are also plans for scheduled live music. An onsite salon with a braid bar and nail station promises to add "a Taco Bell twist to your resort look." The Taco Shop Gift Shop will have taco-inspired swimwear, Taco Bell Art and more.
Taco Bell Attire
If you're going to stay at The Bell, you'll want to gear up with some appropriate Taco Bell attire. Not time to shop before you get there? No problem. You'll find more Taco Bell fashions in the hotel gift shop.
The Bell – Food Options
Put simply, you need to like Taco Bell to stay at this hotel. For taco lovers, the day begins with Taco Bell room service for breakfast. The pool-side Happy Hour will feature exclusive Taco Bell menu items that promise to "add a Taco Bell twist to your stay."
What's Next? The McDonalds Hotel?
It's doubtful that we're going to see a McDonalds Hotel anytime soon. In 2001, McDonalds opened two "Golden Arches" hotels in Switzerland and the experiment did not go well. The hotels were only in operation for two years. There are however other successful hotels associated with fashion, jewelry, crystal or home goods retailers like Armani, Versace, Bulgari, Baccarat, Ikea, Muji and Shinola. It will be interesting to see how the Taco Bell Hotel fares in a competitive marketplace.